Friedën Named First Texas Southern Living Inspired Community
Posted Aug 7 2019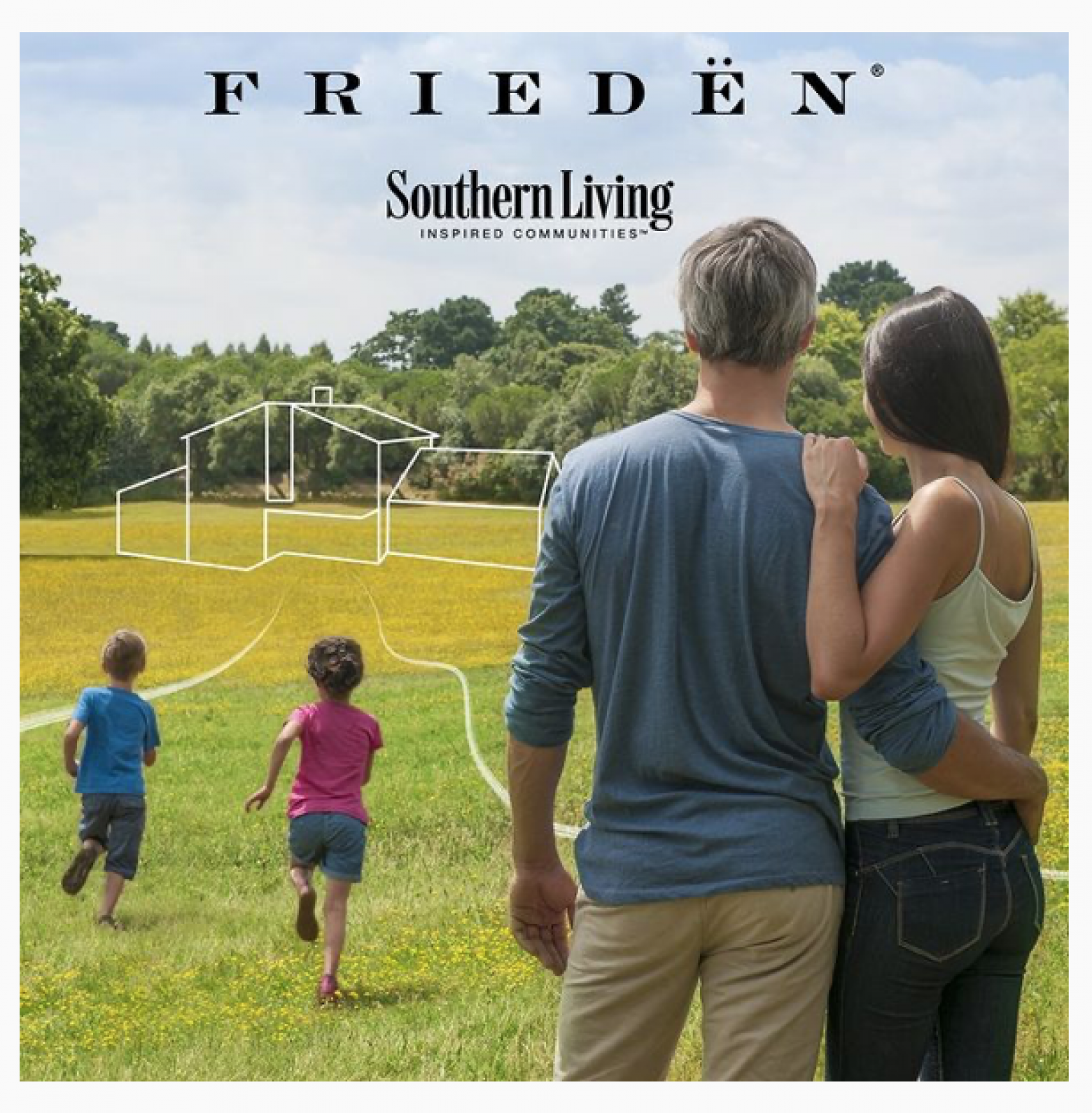 Friedën, Fredericksburg's newest custom home community, announced today that it has been selected as the first Texas community to be included in Southern Living's prestigious Southern Living Inspired Community program (SLIC). The Inspired Community program recognizes Southern Living's favorite communities across the South as emblematic of the spirit and style of Southern Living.
The Southern Living Inspired Community program selects communities from around the South that embody the aesthetics, lifestyle and values of Southern Living for fans of the brand. SLIC communities are held to rigorous design standards in every aspect, and Friedën joins 14 other communities in the Carolinas, Georgia, Alabama and Arkansas as the first Inspired Community from Texas.
"We were interested in Friedën from the start," said Meredith's Vice President of Licensing Kristen Payne. "They're determined to build something that reflects the lifestyle Fredericksburg is famous for, from the preservation of the landscape to the design of the homes. We loved their idea of a community of modern farmhouses that were custom-made but part of a design theme."
Located two miles south of downtown Fredericksburg, the 220-acre mixed-use community is master-planned to capture the spirit of the Texas Hill Country, with acres of open green space, premium amenities and strict architectural and aesthetic guidelines unifying each home's unique interpretation of the "modern farmhouse" style. Design archetype construction is scheduled to begin soon, with the community's first offering of finished home lots available this year.
"It's an incredible opportunity for our community to be recognized by Southern Living, and to be in such great company," said locally based, Heirloom Communities CEO Skip Preble. "They believe in our idea of a community of modern farmhouses, and we think Friedën is in line with the Southern Living lifestyle. Their support will be a huge help when lot selection opens."
Fitting with the unified community aesthetic, homes within Friedën must also meet strict architectural guidelines developed with assistance from Austin architect Tim Brown to set a standard for the quality, exterior style and sustainability of homes within the community. All pre-planned lots and homesites within Friedën are laid out across curvilinear streets specially designed to give each home its own unique view of the Texas Hill Country and the surrounding landscape. More than 40 percent of Friedën's residential acreage will also be maintained as dedicated, open green space once the community completes its final phase of development.
Friedën is set to grow into a high-end, close-knit community with approximately 240 homes spread out among 220 acres of Texas Hill Country. Planned amenities include miles of expansive outdoor trails, three spring-fed lakes, an amenity center including a neighborhood pool, a modern barn event space, a fully-equipped fitness center and Wi-Fi in community and amenity areas. As the community grows, there are also plans for a central Friedën town center, including retail and hospitality, commercial centers and multi-family residential located just outside the gates of the core single-family custom home community.

The trademark SOUTHERN LIVING and accompanying logo design(s) are used by Fredericksburg Development, Inc. solely in accordance with the terms and conditions of a separate license agreement with Southern Living, a division of Time Inc. Lifestyle Group. Southern Living did not supervise or control the design, development, or construction of the residential community or of the homes within and [Licensee] has made no statements or representations that Southern Living supervised or controlled the design, development, or construction.